Eğitim Süresi
48 hours‏ ‏theory
Hi Technical Gastronomy
Courses of Hi Technical Gastronomy in the "Food Innovation and Product Design" curriculum
This course introduces a number of basic scientific principles underpinning the methodology of cooking, food preparation and the enjoyment of food. All topics covered have a strong basis in biology, chemistry, and physics application. Among others, they include the consumption of cooked food, the physiological and evolutionary implication of the senses, geographic and cultural influences on food, and the rationale behind food preparation. We will also discuss issues such as coupling of senses to improve sense stimulation; altering flavor by chemical means; and modification of the coloration to improve the appearance of dishes. Following the video demonstrations of the scientific principles of cooking, you will learn to recognize the key ingredients and their combinations for preparing good healthy food. At the end of this course, you will be able to :
– Appreciate the scientific basis of various recipes;
– Develop your own recipes by integrating some of the scientific principles into new dishes;
– Recognize the influence of the material world on human perception from the different senses;
– Appreciate the art of integrating science into cooking and dining.
Important Note: This course is not designed for people with special dietary needs such as vegetarian, diabetic, and gluten-free diets. If you feel uncomfortable with any part of the assignments or activities of this course, you can substitute some of the ingredients or ask friends and family members to help with the tasting of your assignments. Alternatively, you may skip that specific assignment provided that you have fulfilled all other qualifying requirement to pass the course.
Application Form
Chef
Cook
Catering
Kitchen Assistant
Teacher
Support
Care
Charity Worker
Barista
Child Minder
Nursery Staff
As this course's content corresponds to "Molecular Gastronomy for innovation", it has to include information + concepts + methods + values + anecdotes on the various items,
1. Discovering cuisine : what it is, cultural aspects, history, particular regional developments, ways of doing, organization, relationship with the food industry,
2. Social link : how it is achieved, how it could be improved, what "eating" means,
3. The art component of cuisine : what is art, what is culinary art, how artists work, their goals and methods,
4. The technical component of cuisine,
5. First order descriptions of culinary processes (chemical, physical), based on the use of the "formalism for disperse systems" (DSF),
6. Green chemistry and cuisine: the extent of chemical modifications during culinary processes and their importance for regulation,
7. The issue of potential vs actual bioactivity (including bioavailability, bio accessibility, matrix effects),
8. Traditional cuisine,
9. Culinary definitions,
10. Culinary precisions: a key for innovation,
11. How to collect them?
12. How to test them?
13. What to do with results?
14. The "third part"
15. Molecular Cuisine: introducing new tools, new methods, new ingredients
16. New tools (liquid nitrogen, rotary evaporator, filters, sonication probes, siphons, pianocktails…)
17. New ingredients (additives, various flavourings and food improving agents)
18. New methods (various formalisms for innovation)
Other culinary trends
1. Abstract cuisine
2. Culinary constructivism
3. Others
Note by Note Cuisine: food for tomorrow
What it is,
How it works,
Questions around. (politics, sociology, toxicology, economy, science, technique…)

Methodology
Main processes involved in dishes preparation, How to deal with complex systems (methodology)
Methodology for food innovation
Methodology for technology transfer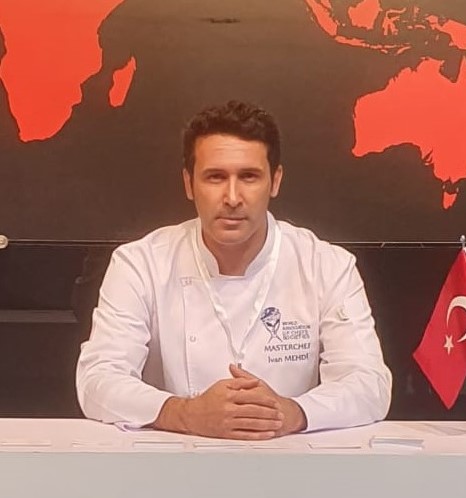 MASTER CHEF IVAN MEHDI DEHDASHTI
MASTER CHEF IVAN MEHDI DEHDASHTI
Has a degree in Hotel Management from DANESHGOSTAR Independent Institute of Higher Education .
With grade A
Holder of Technical Certificate (SKILL) from Iran, Lebanon, Canada. In various fields of culinary arts including:
1. International dessert maker
2. Aquatic chefs
3. Middle Eastern traditional chefs
4. Chef's Cake Maker (REFRESHMENT MAKER)
5. Chef's barbecue
6. Chef's Fast Foods
7. Chef's Confectionery and Chocolate Maker
8. First and Second Class Chef (Equivalent to Sous chef)
From 2009 to 2015
Holder of technical and specialized certification (GLOBAL SKILL) Executive Chef of the WACS, World Association of Chefs' Societies in 2015 And
Holder of technical and specialized certification (GLOBAL SKILL) MASTER CHEF of the WACS, World Association of Chefs' Societies In 2018.
Experience working and training in 5 star hotels in Iran, Azerbaijan, Lebanon, Canada and Turkey As well as the cruise ship (Royal Princess) from 2003 to 2019 And
has research and development titles in the field of modern food cooking including:
1. Molecular Gastronomy
2. Production of new foods using high technology science
3. Production of new foods using biotechnical sciences.
---
Eğitim Süresi
48 hours‏ ‏theory