Education place
Istinye University Topkapı Campus
Molecular Gastronomy Program
Is a modern cooking style that uses many technical innovations from various disciplines to follow the physical and chemical transformations of the food constituents during cooking to produce new scientific rappers, which Around the world, it has attracted countless wealthy supporters.
And it's often used in the world's best restaurants and science cuisines that many of the world's top-rated countries enjoy.
Form this course to learn the rappers in this field,
For hiring in the best science restaurants in the world or for setting up and running these restaurants around the world.
Application Form
Days
Molecular Gastronomy Topic
Chemical Topics
1.
Introduction

Atoms & molecules
Covalent bonds
Non-covalent H-bonds
States of matter
Food molecule: Water

2.
Flavour Molecules

Origins of taste and smell
Drawing molecular structures
Stereochemistry
Receptors
Food molecules: Odorants

3.
Emulsions

Non-covalent dipole interactions
Hydrophobic vs hydrophilic
Emulsifiers and stabilizers
Food molecules: Fats & Oils

4.
Gels/Thickeners

Ionic interactions
Polymers
Hydrocolloids
Food molecules: Carbohydrates

5.
Sous-Vide

Energy and enthalpy
Cooperativity
Protein folding and stability
Food molecules: Proteins

6.

Mid-term test

Acids & Bases

In-class test (50 min)

Acids & Bases
Chemical equilibria
Concentration
Food molecules: Acids, CO2

7.
Maillard & Caramelization Reactions

Molecular reactions
Chemical kinetics
Food molecules: Amino Acids & Sugars

8.
Color and Foams

Valence bond theory
Electronic conjugation
Acid/ Base indicators
Food molecules: Minerals

9.
Antioxidants

Redox reactions
Food molecules: Vitamins

10.
Food Enzymes

Enzyme catalysis
Physiological role
Food molecules: Enzymes

11.
Fermentation

Microbiology
Cellular metabolism
Ideal gas law
Food molecules: Microorganisms

12.
Movies

Student Videos
Student choice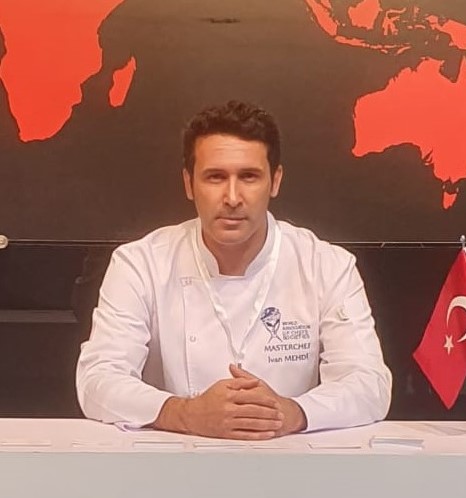 MASTER CHEF IVAN MEHDI DEHDASHTI
MASTER CHEF IVAN MEHDI DEHDASHTI
Has a degree in Hotel Management from DANESHGOSTAR Independent Institute of Higher Education .
With grade A
Holder of Technical Certificate (SKILL) from Iran, Lebanon, Canada. In various fields of culinary arts including:
1. International dessert maker
2. Aquatic chefs
3. Middle Eastern traditional chefs
4. Chef's Cake Maker (REFRESHMENT MAKER)
5. Chef's barbecue
6. Chef's Fast Foods
7. Chef's Confectionery and Chocolate Maker
8. First and Second Class Chef (Equivalent to Sous chef)
From 2009 to 2015
Holder of technical and specialized certification (GLOBAL SKILL) Executive Chef of the WACS, World Association of Chefs' Societies in 2015 And
Holder of technical and specialized certification (GLOBAL SKILL) MASTER CHEF of the WACS, World Association of Chefs' Societies In 2018.
Experience working and training in 5 star hotels in Iran, Azerbaijan, Lebanon, Canada and Turkey As well as the cruise ship (Royal Princess) from 2003 to 2019 And
has research and development titles in the field of modern food cooking including:
1. Molecular Gastronomy
2. Production of new foods using high technology science
3. Production of new foods using biotechnical sciences.
---
Education place
Istinye University Topkapı Campus